It upsets when people say they can't achieve their dreams. I usually ask what their dreams are and I get well dreams that are broad and take many steps and stages. Nobody ever thinks about breaking down a goal. This world has come to the point where nobody wants to work to get anything they want. Even to get our food the fast food industry has grow in the past decade.
You can't get everything you want instantly some things have to be obtained and sometimes in a specific order. I believe dreams can always be followed. It might not be the exact picture in your head but things are rarely what we imagine them to be.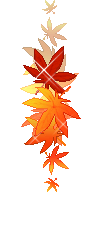 As most of you know I decided to make a
Summer Bucket List
. It wasn't any big dreams, but it was small dreams to help me have a fantastic summer. Most of mine was to help me remember the small things that can still be enjoyed by all. I accomplished all but one thing on my summer bucket list though. I call that pretty good. So now it's time for the Fall Bucket List!
Make an autumn wreath

Buy new leggings

Get two new pairs of boots

Get knit sweater socks.

Find sweaters

Invest in linen handkerchiefs.

Use leaves to decorate the tables and window sills

Buy a horn of plenty for my dining table

Celebrate Chris's birthday in style

Enjoy orange and white pumpkins

Play Scrabble by the fire place with a fire burning.

Play flag football

Go trick or treating at WDW

Tailgate before every Alabama Football game

Put up a cinnamon broom with a pretty fall ribbon on it.

Watch Football movies, Remember the Titans, Blind Side, and Hometown Hero

Enjoy some thick barbecue sauce on ribs during a football game

Bob for apples

Decorate the Townhouse for Halloween/Thanksgiving

Make some of Martha Steward Decoration

Read the Alabama ghost stories

Do everything in the Wizarding World of Harry Potter

Go for a ride through the mountains when the leaves are changing

Apple picking

Bake Halloween cupcakes

Make

Halloween Cocktails

Take a hay ride

Climb a haystack at dad's with Chris

Visit a Pumpkin patch

Carve pumpkins and make a

polka dotted pumpkin

Make pumpkin pie

Make apple pie

Make pumpkin bread

Make tons of peanut butter fudge

Roast pumpkin seeds

Make worms with straws

Make a bird feeder

Play chess

Sip on Apple cider

Go to a carnival

Get face painted

Buy fall mums

Make chili

Play in a leaf pile

Watch Hocus Pocus

Go through a Haunted House

Cook Gumbo

Sips Starbucks while at Starbucks looking at Pinterest

Make a pecan pie

Eat outside at a real picnic table

Make smores

Learn to Swing Dance

Make caramel apples

Go on wine tasting tour

Go to a state fair

Help out at the fall festival at church

Test all of the holiday drinks at Starbucks

Stay at a cabin.
Hoolahoop
Watch other kid cartoons of Halloween and Thanksgiving
Eat homemade pizza
Go to 3 of John's football games
Make a scarecrow
Ride bike through changing leaves.
Climb a tree like Bella and Edward
Go to the Alabama Renaissance Faire on October 27th.
Go camping
Visit tiny towns.
Visit the ghost town in Alabama
Wear converse with a dress
Go to fair.
Stay on a houseboat for a night.
Enjoy yhe fall festival at church.
Trunk or treat!!!!
Get my face painted.
Go roller skating
Do charcoal drawings and pastel artwork
Wear different hats.
Reread Telltale Heart by the pond.
Take a self defense class.
Make Eyes in the Bushes--Place glow sticks inside the tubes, then hide them in the bushes. Great, simple Halloween decorations!
Make apple muffin
Enjoy more tea afternoon at Emma's tea room.
Enjoy fall smells via Scentsy, Bath & Body Works, and Yankee Candle
Swing on the swings
Make awesome waffles with chicken.
Enjoy the Judgement Trail at church.
Enjoy Halloween with my family
Watch the Thanksgiving Parade with Chris
Go Black Friday Shopping with Chris
Enjoy the Auburn/Alabama with Chris
Enjoy Thanksgiving with my family and Chris's family
Learn more Bible Verses
Read fall books
Thank God for the blessings he has put in my life.