I have been to 3 different Disney Parks and one thing I know is a fact about all of them? The hair that the Princesses have is T-totally fake. Not to mention theirs is totally annoying. It's a joke to try and curl your hair for a day in the parks. Sweat, suntan lotion, oil, humidity, all add up to make hair one hot mess. I've also been to Disney World when they had records lows, still hair curled or fixed is not going to work.
I had a mission for this upcoming trip to Disney. I want my hair to be fixed but in a way it will still look good after the humidity, sweat, wild rides, and the day has taken it toll on it. So I have come up with a few solutions:
Polished Ponytail - Blow dry, loosely roll, pull back and add a dab of smooth gel or wax to tame flyaways.
Braided Updo - Apply texturizing mousse to damp hair and allow it to air dry. Wrap sections of hair around a 1-inch curling iron to create texture throughout your hair. Finger comb through your waves to muss them up. Make a side part, then add some gel to a wide-toothed comb and run it through the larger part, setting the waves into place. For the crown braid, tie away the smaller parted section of your hair. Flip your head over, then taking the bottom half of the larger part, split it into three sections and begin dutch braiding. Each time you move a section of hair to the middle, add more hair traveling up your head and curve as you do so to create the crown. Once reaching the center of your head, undo the elastic and continue braiding down your head. Finish braiding all of your hair, tying it with an elastic. Wrap the braid around the crown and pin the ends under with bobby pins. - Via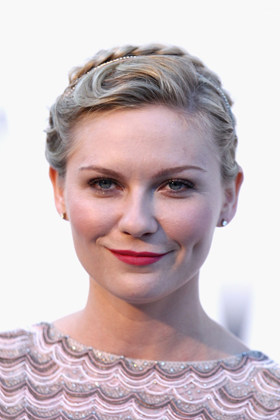 Double French Braid on both sides - Self explanatory
Now there are nights where Chris and I have reservations to restaurants where you have to come really dressed up (think guys in jackets and ties) and I will have my hair sprayed with hairspray. Lol
Besides hair there is other things to consider while attending the Disney parks.
Sun exposure. I like spray-on sunblock. I have very fair skin so I use an SPF of 45-75.

I love my foundation from Estee Lauder foundation because it has SPF in it. (I am posting links to all of the products I think will be useful as well as the ones I use like my foundation.)
Another thing is wearing lip balm with a SPF in it as well.
Also using a hat is advisable. All sorts of hat styles are good. Just be able to conceal them on rides.
Sunglasses are recommended as well. I found a tip from a fellow Disney lover that buys cheap bulk batches of sunglasses that way if they get lost or stolen it isn't a big deal.

Shoes..... I hate seeing people try to wear heels and such shoes to Disney Parks. If you are going to a nice restaurant fine but to wear heels to get on Space Mountain or Soarin' it makes almost everyone you come across roll their eyes at you. Wear tennis shoes, flat shoes, or sandals.
As hot and humid as it normally is I most always take a very light weight jacket. I get cold easily.
Purse? Cross body, lanyard, or wristlet.... That's the only kind of bags I'm bringing into the parks unless its to water parks or Animal Kingdom and then I take a beach bag with a change of clothes but the bag stays in the locker.
Make-up besides foundation and powder? I say maybe a tint of blush and highlighter in the inner corner of the eyes. DO NOT put on mascara, eyeliner, or eyeshadow unless you don't rub your eyes or you don't mind redoing your make-up.
Atleast I won't look like a total pig standing beside them.